The Theory of Poker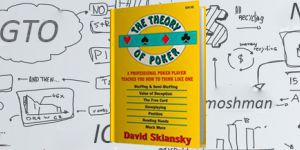 David Sklansky was born in 1947 in Teaneck, New Jersey. David inherited a propensity to mathematical and logical thinking from his father, professor of mathematics, that's why he is often called "Einstein" or "Mathematician" in poker circles.
After graduating from Teaneck High School he entered University of Pennsylvania, which he didn't graduate from. The matter is that David started to spend most of his time on poker, where he achieved good results thanks to his knowledge of math. Some time later Sklansky moved to Vegas to start a career of poker player. By 1982, at the age of 29, David Sklansky won two WSOP bracelets.
David's writing career started with cooperation with Roger Dionni in writing of the book titled "Winning in poker". After that he wrote and was the co-author of 12 more books about poker.
One of the most popular books written by David Sklansky is "The Theory of Poker". Some people call it "Encyclopedia" or "Bible" of poker. This book will help you realize what's worth special attention in certain situations when playing poker before making the decisions. The author thoroughly explains the game with the help of step-by-step instructions: preflop, betting rounds, bluff and so on.
By the way, "The Theory of Poker" by David Sklansky will be useful not only for those who play Texas Hold'em. The book also describes four types of poker: 7-card Stud, 5-card Draw Poker, Lowball draw poker and Razz. The author briefly describes each of the games for reader to get to know them. In the end of the book there is a glossary which describes the meaning of the words, that may be unfamiliar to the new players - flop, board, backdoor flush and others. Also, Sklansky gives some new terms: effective odds, implied odds, reverse implied odds.
With the help of the book "The Theory of Poker" new players may know the rules of poker. "The Theory of Poker" will also be useful to those who already know some poker terms and strategies and want to become professional players.
Author: David Sklansky
Type of poker: Applicable to a large number of games
Level: Beginner
Year of publishing: 1978
Number of pages: 145
Language: English
Knowledge base's sections