Small Stakes No-Limit Hold'em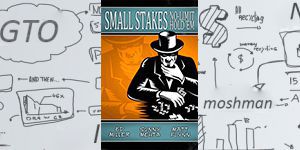 The book "Small Stakes No-Limit Hold'em" by the authors Ed Miller, Sunny Mehta and Matt Flynn can be called bestseller in the area of textbooks in poker as it is written by the professionals.
Ed Miller is an instructor of CardRunners.com website and the author of many poker books. He is acknowledged by his works "Small Stakes Hold 'em: Winning Big With Expert Play", "No Limit Hold 'em: Theory and Practice", "Getting Started in Hold'em", "Professional No-Limit Hold 'em" with total circulation exceeded 200,000 copies.
Sunny Mehta is a professional poker player who was able to beat the stakes up to NL5000. Matt Flynn has a degree in math. He actively applies his knowledge in No Limit Hold'em and thanks to that he is able to find a way out from any difficult situation.
Few years ago one could make decent money playing at low stakes. Patience and diligence was needed as most of the players deposited to the rooms barely knowing the rules of poker. The situation change drastically. Now you have to put a lot of effort to start winning at real money poker tables.
The authors claim that "Small Stakes Hold 'em" will help you to find weaknesses in your games, learn to correctly analyze mistakes in hands and also fix them. You won't be able to remember everything you've read in the book after the first time, so do not be lazy to reread it several times.
From this publication you will know how to develop and improve your game, strategy and also how to adapt it for different opponents.
The book "Small Stakes Hold'em" is built on examples of hands authors played in real games at small stakes. Most of the book is about 6-max tables at NL200 online.
The purpose of this publication is to provide you with the most important conceptions of poker game, using which you will be able to make your dreams come true. After reading the book "Small Stakes Hold 'em" you will learn to correctly play preflop, categorize the opponents on the stats of your HUD, and also receive some practical advice about blinds stealing, making correct decisions based on EV, using bluffs and counteract to strong aggressive opponents. In addition to that you will know seven simple steps to success in No Limit Hold'em and many more. The authors managed to cooperate basic ideas with deep thoughts of professional players and describe the result in simple words in their book.
In general, it is safe to say that "Small Stakes Hold'em" will help you to start playing quality poker and, if you're diligent enough, even break into the middle stakes. To get the result, one must work, but it is not easy to get income in poker on a regular basis and this book might help you.
Authors: Ed Miller, Sunny Mehta and Matt Flynn
Type of poker: No Limit Texas Hold'em
Level: Intermediate
Year of publishing: 2009
Number of pages: 406
Language: English
Knowledge base's sections