Sit'n Go Strategy by Collin Moshman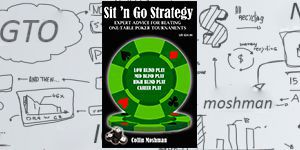 Collin Moshman is a famous poker expert, the author of several poker books. In 2003, Colin got a degree in theoretical math at Californian Technological Institute and then went to a graduate school. The same year he started playing poker at cash game tables at NL50 and Sit-n-Gos with $6 buy-ins. He climbed up the stakes and reached Sit-n-Gos with $215 buy-ins. Realized he could make big money here, Colin dropped out from the graduate school and started a professional poker career.
He did pretty well in the game. And in 2007 he decided to publish his first book titled "Sit'n Go Strategy: Expert advice for beating one-table poker tournaments", which was the first book and about single-table tournaments (so called Sit-n-Gos). Moshman described his recommendations on playing Sit-n-Gos online. The book is proclaimed as "expert recommendations on single-table tournaments".
"Sit-n-Go Strategy: Expert advice for beating one-table poker tournaments" by Collin Moshman consists of four parts, three of which describe different stages of the tournaments: the early blind stages, the middle blind stages, the late blind stages. The fourth part tells about the career of Sit-n-Go player and has plenty of useful info as well: more than 150 real-game situations with the detailed description of optimal decisions as examples; general information about probabilities in poker and how to count them; includes tables for different stack sizes with the hands you must push all-in with and other stuff (push-fold hands).
After reading the book by Collin Moshman you will be able to calculate the expected value in chips, get to know the independent chip model aka ICM; learn how to play different starting hands from various positions and blinds levels; play at several tables simultaneously; change the strategy depending on the blinds level; use the programs which collect the stats on the opponents.
This book has become a bestseller among Sit'n'Go players, "Sit-n-Go Strategy" will be useful not only to those who just start their careers of poker players. It is a perfect fit for those who are willing to earn some pocket money playing poker for real money.
Author: Collin Moshman
Type of poker: Applicable to all varieties of online poker
Level: Beginner
Year of publishing: 2005
Number of pages: 231
Language: English
Knowledge base's sections