Let There Be Range!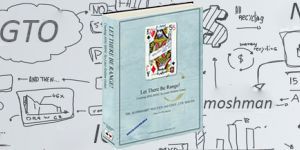 The book "Let There Be Range" was written in 2008 so it can be considered a modern one. It differs from other poker books first and foremost in terms of the size, as it is only 80-pages-long. The size of the edition of such size is due to the fact that the authors tried to make it as useful as possible. The book "Let There Be Range" doesn't have useless information, just expert answers by great poker players Tri Nguyen and Cole South to definite questions. The authors tried to make a system out of their knowledge and give it away in this compressed format. At the time of its release the book cost $1850.
At the beginning of the book Nguyen and South boldly declare that they are going to make a "superuser" out of the reader, and he will be able to define the ranges of the opponents, using the position at poker table, bet sizes, the combinatorics and other playing moments. Knowing your opponents' hand range you will be able to make him call, raise or fold easily as well as apply some bluff.
You will know about combinatorics, optimal boards structure for float, you will get to know different options of play with scare cards appearing on the board, will learn to use different lines of play and bet sizing. The authors didn't leave unattended basic concepts of poker in their small-sized book: bluff, semi-bluff, 3-bet pots, playing on different streets. All the info is backed up by real high stakes hand analysis, graphics, diagrams and training exercises.
To fully realize the essentials of the book you need to have a huge experience at the poker tables. Those who are just starting familiarity with the game (by reading basic rules of poker for beginners of studying Texas Hold'em poker cards combinations) should read some basic poker textbooks before reading this book. However, if you want to become a professional poker player, this book is one of those that must be read.
"Let There Be Range" has many orthographic mistakes as Tri Nguyen and Cole South refused to work with editors in fear those could distort the main idea.
Authors: Cole South, Tri Nguyen
Type of poker: No-Limit Texas Hold'em
Level: Intermediate
Year of publishing: 2008
Number of pages: 80
Language: English
Knowledge base's sections