Doyle Brunson's Super System: A Course in Poker Power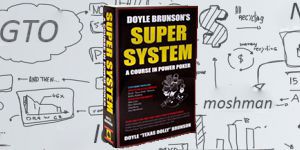 Super System is the first book written by a living legend of poker - Doyle Brunson. The idea of writing the book came to Doyle after he read all the so-called "advanced" books about poker that were available in book shops back then. As it turned out, none of these books were written by the professional poker player. That inspired Brunson to write a really good book about the game of poker.
This book saw the light in 1978. It was called "Super System". An important feature of the book was the fact, that it was the first ever poker book written by the professional poker player, not just some random writer with poor poker knowledge. The co-authors of the book were Bobby Baldwin, Alan Goldberg, Mike (MJC) Caro, Joey Hawthorne, David Reese and David Sklansky.
Doyle Brunson's Super System consists of several sections, each of which is about a certain game: 7-card Stud, Lowball, Limit Hold'em, No-limit Texas Hold'em and 7-card Stud Hi-Low.
Doyle Brunson's Super System is often called "The Bible of poker" as it was the first time the readers get to know about advanced poker strategies from one of the best poker players of that time. Certainly, the info in the book is outdated. But at the moment of the book release (1978) the authors made some kind of revolution in the poker industry giving its development a solid push.
Super System has become a Book of Books of every poker player attached to his dignity. Scores of professionals learned about poker thanks to the book, some of them even managed to outperform the authors within the shortest possible period of time. Some players joke that due to the priceless information given away in "Super System" becoming available to all the players, Doyle never won WSOP bracelet again. Doyle Brunson later expressed regrets he wrote Super System as it greatly increased the skill level of opponents, which in turn deprived him of a huge number of potential winnings.
The major disadvantage of this publication is in that the material of the book is for advanced players mostly and the beginners (those who just learned the rules of poker or poker hand rankings) won't understand all of it.
Author: Doyle Brunson
Type of poker: No-Limit Texas Hold'em, lowball, Limit Hold'em, Seven-card stud, Seven-card stud Hi-Lo
Level: Intermediate
Year of publishing: 1978
Number of pages: 605
Language: English
Knowledge base's sections